Rifle Cleaning With Tetra Gun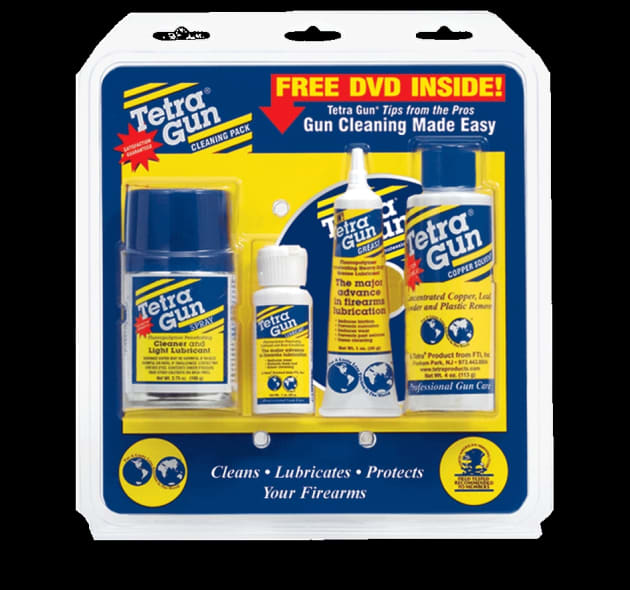 Tetra's 4-in-1 Cleaning Pack Contains Everything Shooters Need to Clean, Lubricate & Protect Their Firearms
The complete chemical cleaning set for the firearm enthusiast is available in a convenient and attractive clamshell package.
Typically, Tetra® Gun Grease is meant for high-wear moving parts such as semi-auto pistol rails and bolt actions, as it stays in place. Tetra® Lubricant has a lower viscosity, and is more of an all-purpose lubricant that can be used anywhere you need lubrication, even in the tightest, hardest-to-reach parts.
Cleaning Pack Contains:
Tetra® Gun Copper Solvent
Quickly Removes All Contaminants from Firearm Barrels
• Use as the first step in bore conditioning
• Fast-acting, extra-strength formula
• Won't 'etch' the barrel
• Removes: copper, lead, plastic, carbon & dirt
Proven effective in dissolving copper fouling
Spray Lubricant and Liquid Lubricant
• Unlike many traditional gun care products, Tetra® lubricants and cleaners do not contain petroleum products, which are the leading cause of gumming up, which leads to jams.
Tetra Gun Grease
• Tetra® Gun Grease is a unique synthetic lubricant formula. Grease is a "Fluoropolymer Penetrating Heavy-Duty Grease Lubricant." Grease does not contain lithium.
You can see editor Marcus O'Dean demonstrating rifle cleaning in this video.